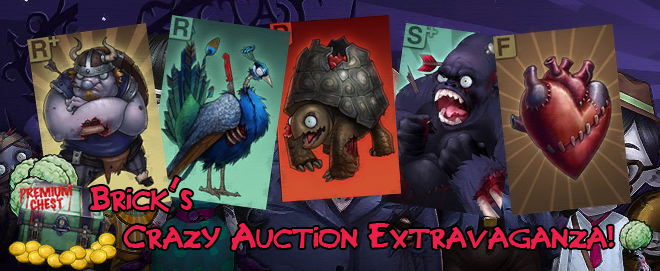 #Number7
AUCTION FOR 1 PREMIUM CHEST COST 30BUCKS
TODAYS PRIZE IS 1X BRAIN 1X FUSION+ BOOST AND 1X R CARD

The last auction winner was - FE7GD6 who received 1x Brain 1x Fusion Boost 1x Gray Parrot R Card

Hi folks I'm auctioning off 1 Premium Chest which I will open in an hour and a half to the highest bidder
Bidding start's at 10,000k and will last for one hour and a half
Start - 19.30 GMT Finish - 21.00 GMT
Please leave your bid amount and code in the reply below if you can please keep bids to Tokens so we know what people are bidding I will update the post if it's moved off this page
Happy Bidding and Good Luck!!!!!
PLEASE REMBER!!!
That this Auction is just for fun the item's in the auction are the one's the winner will receive if it's for a Premier Chest it could be any card from a fusion to an S+ card but the drop rate for those is very low so don't get to excited. You might Recive a card your after you might not it's luck of the draw just like fighting the Epic Boss event's!!!

AFTER THE AUCTION IS OVER!!!
After the auction is over will the winning bidder please send there Tokens to QZ70G6 and the prize's will be sorted out please give my time to reply. If the winner does not respond within 10-minutes I will ask the next Highest bid to come forward and claim the prizes. Please rember to keep checking this page for up-dates Thanks.
Right that's all the mumbo jumbo out the way if there's anything else i have missed please let me know thankyou to all who are going to participate and enjoy the auction.
GOOD LUCK EVERYONE AND PLEASE DON'T FORGET TO VOTE THIS UP THX ;-)
AUCTION WINNER'S AND PRIZES SO FAR!!!
Auction 1. The Winner Was - EA75C6 Prize - 1x Brain & 1x R+ card
Auction 2. The Winner Was - QZ70G6 Prize - 1x Burglar R+ Card
Auction 3. The Winner Was - 0J7AP6 Prize - Unclaimed
Auction 4. The Winner Was - 3A7G72 Prize - 1x Brain 1x Fusion Boost & 1x Hippie R+ Card
Auction 5. The Winner Was - V67DK2 Prize - 1x Brain 1x Fusion+ Boost 1x Hippie R Card
Auction 6. The Winner Was - FE7GD6 Prize - 1x Brain 1x Fusion Boost 1x Gray Parrot R Card
Auction 7. The Winner Was - ????????
Ad blocker interference detected!
Wikia is a free-to-use site that makes money from advertising. We have a modified experience for viewers using ad blockers

Wikia is not accessible if you've made further modifications. Remove the custom ad blocker rule(s) and the page will load as expected.